Scroll down the page
and explore the links and descriptions of the many
Amaranth Publishing
web pages
and products.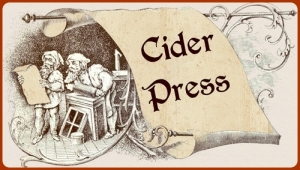 Early American music,
unusual & unique music,
and ephemera collection.
New...

The Cider Press Unique PDF ebook collection for historical researchers, music history researchers and for the just plain curious folks out there....

The World's First
Multimedia Production?

The Music Of
Renaissance Alchemist Michael Maier

Atalanta Fugiens

Atalanta Fugiens may well be one of the first multimedia productions ever created. The work was created in 1617, by Renaissance alchemist Michael Maier.

The complete title is

Atalanta fugiens, hoc est, emblemata nova de secretis naturae chymica.

The publication is a complex early example of multimedia art made up of 50 sections. Each section contains an engraved emblem and has a verse and an epigram associated with the emblem, and a short prose discourse which elaborates an alchemical interpretation of the symbolism in the emblem. Each of the 50 sections also includes a short and unique musical canon composed by Maier.

You can go to our

Atalanta Fugiens

page to learn more about this publication and about alchemist Michael Maier and to listen to MP3 samples of the music from Atalanta Fugiens.

The Music Of The Spheres



Johannes Kepler (1571-1630) published his work Harmonices Mundi, in 1619. This work, in which he attempted to explain the harmony of the world, was a series of five books and contained what is known today as his third law. The work was founded on geometry, from which Kepler derived first a theory of musical harmony and then a cosmology of the heavens and the earth. Kepler was attempting to find common rules between music and movement in the solar system. His music of the spheres is based on the relative maximum and minimum angular velocities of the planet measured from the sun. Using his theories, Kepler allotted to the planets musical intervals and musical motion.You can go to our

Music Of The Spheres

page and listen to MP3 representations of Kepler's theories and order an MP3 collection of various planetary audio combinations.


The World's Most Haunting Melodies
Haunting:
Continually recurring to the mind....
"haunting memories";
"the cathedral organ and the distant voices have a haunting beauty"
Beautiful, but in a sad way
and often in a way which cannot be forgotten:
"a haunting melody"

The world's most haunting melodies,
chosen by people from all walks of life.






No kidding, this page has music composed for the infamous Illuminati conspiracy,
by one of the original members of that famous organization, including.....
"The Illuminati Anthem".

Llibre Vermell
and the
Legends of Montserrat





A musical memorial for Canadian First Nations
activist, songwriter and filmmaker Willie Dunn.



Dream Angus

The lovely Celtic lullaby known as Dream Angus came from a unique tale.

The legend has it that Dream Angus comes to you at night and bestows dreams - you may spot him skipping across the hills, his bag of dreams by his side. Just the sight of him may be enough to make you lose your heart, for he is also the god of love, youth and beauty.

The O'Carolan Canons

Most traditional Irish music is descended from the Bards, a caste of itinerant musicians who played a wire-stringed harp known as the "clarseach", which has a chiming, resonant tone. The blind harper, Turlough O'Carolan (1670-1738), was the most famous of the latter-day bards.

I have composed 7 canons using melodies from O'Carolan pieces.

The Song Of Linus

A song performed in the ancient world that eventually became known as the "Linus Song" is an example of the one of the oldest known song and poem that was performed in various forms across much of the ancient world.

The origin and notation and words of the melody & poem is unknown. The song can be traced back to Ancient Egypt and then disappears into the mists of time.
The theme of the Linus song relates to death, both in the physical meaning, but also in the transformation meaning of change and rebirth in death and the transformations of seasons and the loss of youth to age.


Throughout history, in every culture, there have been tales and legends about supernatural music, the music of fairies, spirits, music with powers to heal, charm, enlighten and illuminate. The music making up this collection was gathered from many books as old as 500 years containing notated examples of this music worldwide.

Music of the Early Printers

Information about many of the first Renaissance printers who were also music publishers and composers featuring MP3 collections of examples of this early music printing.

Sketches of Freedom
Ron Bankley
poems & other sounds

Sketches of Freedom is a combination of printed book and compact disc featuring the reading and musical interpretation of all fifteen poems.

Sometimes I Wonder Why The World
A new CD by singer/songwriter Bruce Murdoch

Bruce Murdoch was one of the legendary group of singer/songwriters in the New York City, Greenwich Village of the 1960s, along with Bob Dylan, Joan Baez, Phil Ochs, Patrick Sky, Eric Andersen, Tom Paxton and so many more. After leaving his home in Canada at age 16, he made his way to the City and quickly made a name for himself as a singer/songwriter. After recording with Elektra Records and the recording company of Richie Havens, performing at famous folk events such as the Newport Folk Festival and an appearance at Carnegie Hall...... for reasons that have never been fully identified, Bruce Murdoch walked away from the music world and disappeared north, back to Canada. He worked at various jobs and eventually became a teacher, a high school principal and also became a firefighter and emergency first-responder.
After not even picking up a guitar in well over 2 decades, in 2008 Bruce reappeared like the legendary phoenix and began to compose again.
Go to his web site www.brucemurdoch.com to read more about him and to order his latest CD........


Sometimes I Wonder Why The World






Considering the crazy ways things seem to keep happening after we send the politicians from both political parties to Washington D.C., a new kind of candidate for President might not be a bad idea. Or, we could revive an old campaign.
Listen to the original Howdy Doody For President campaign songs..........


Asia through the eyes of an
American jazz musician

Click here to go to the web page of jazz musician/composer, writer and photographer Bob Mocarsky. You can download chapters of his book, a work in progress of photographs and writings that describe his experiences living in Asia. A new sample chapter has been recently added.
You can also purchase a copy of Bob's new CD Shanghai.



Hannah's Song
The art & music of Hannah Cohoon

Hannah Cohoon is the most famous of the many artists from the mystical Shaker communities in 19th Century America. What is not widely known is that she also composed interesing songs .
Hannah's Song



Meet the CEO of Amaranth Publishing and The Creator!
And learn who you should contact if you know of a
Golden Retriever that needs to be rescued or needs assistance.

You can also listen to the MP3 files of "Sadie's Symphony", a memorial for our beloved Sadie, who passed away recently.



The Song Of Seikilos
The World's Oldest Love Song?

In ancient Greece a man named Seikilos inscribed a funeral pillar with an epitaph, poem and song for his deceased wife.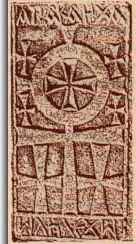 The Oldest Christian Hymn?
Oxyrhynchus is an archaeological site in Egypt, one of the most important ever discovered. For the past century the area around Oxyrhynchus has been continuously excavated, yielding an enormous collection of papyrus texts. Among the texts discovered at Oxyrhynchus are plays of Menander and the Gospel of Thomas (an important early Christian document), and the oldest known music notation and lyrics of a Christian hymn
A Gaelic Blessing
Gaelic Blessing
This is something the world
could use a whole lot more of...
Musikalisches Würfelspiel
(Musical Dice Game)

An interesting musical game,

Musikalisches Würfelspiel

(musical dice game) has often been attributed to Mozart. On this page you can download a free Windows program you can use to create hundreds of Minuets in the style of Mozart!

An Unknown Mozart Improvisation?

For the Mozart fans and music history fans out there,

here is an interesting piece of music

that we recently discovered that was published in Baltimore in 1874. The editor of this piece claims that this music was improvised by Mozart, and later written down by one of the listeners. An interesting story to say the least.
In 1972, after 15 years of research Prof. Anne Kilmer (professor of Assyriology, University of California, and a curator at the Lowie Museum of Anthropology at Berkeley) transcribed one of the oldest known pieces of music notation in the world. Click here to go to our page about this unique song and to hear MIDI arrangements of various transcriptions of this song.
Arca Musurgica

The

Arca Musurgica

, described in 1650 in the innovative music publication

Musurgia Universalis

by Jesuit Father Athanasius Kircher, is a device by which both musicians and non-musicians can compose multi-part music.

Calling The Muse
In the 2nd century, a lyric poet Mesomedes composed the most complete existing examples of ancient Greek music.

Geronimo's Medicine Song


In the words of Geronimo -
"The song that I will sing is an old song, so old that none knows who made it. It has been handed down through generations and was taught to me when I was but a little lad. It is now my own song. It belongs to me. This is a holy song (medicine-song), and great is its power. The song tells how, as I sing, I go through the air to a holy place where Yusun (The Supreme Being) will give me power to do wonderful things. I am surrounded by little clouds, and as I go through the air I change, becoming spirit only."

Geronimo's Medicine Song
Will Kemp's Jig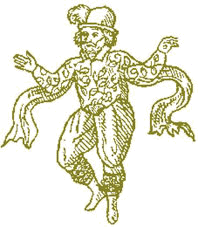 How many people have danced 80 miles in 9 days? Well, Will Kemp did; and you can read his story and listen to a MIDI arrangement of Will Kemp's jig.
---

"I have deposited in the county of Bedford, about
four miles from Buford's, in an excavation or vault,
six feet below the surface of the ground, the
following articles: ... The deposit consists of two
thousand nine hundred and twenty one pounds of
gold and five thousand one hundred pounds of silver; also jewels, obtained in St. Louis in exchange for silver to save transportation ... The above is securely packed in iron pots, with iron covers. The vault is roughly lined with stone, and the vessels rest on solid stone, and are covered with others ..."
The Beale Treasure
If you can solve this cipher code,
you could become very wealthy!..............

This link goes the the web site of a Fort Worth based computer sales and service company, whose help, expertise and assistance over the years has helped in large part to make this web site possible. As well as computer sales and service, Green & Associates is also a state of the art graphic design company for all forms of printing, and a web site design company.