Song of Seikilos

The song of Seikilos is one of the few preserved compositions of ancient Greek music. It is engraved into a grave pillar that was found 1883 in Aydin in Turkey and is dated between 200 BC and 100 AD.
On the tombstone is an indication that the music composition and poem were composed and written by one Seikilos, for his wife, who presumably is buried there. The opening epitaph states:


I am a portrait in stone.
I was put here by Seikilos,
where I remain forever, the
symbol of timeless remembrance.
The find has been dated variously from around 200 BC to around AD 100. While older western music with notation exists (for example the Delphic Hymns), all of it is in fragments; the Seikilos epitaph is unique in that it is a complete, though short, composition.
The music for Song of Seikilos is inscribed with a short poem. Here are are two different translations of the poem:
1. While you live,
dance and sing,
be joyful:
For life is short,
And Time carries away his prize.

2. As long as you live, shine,
Let nothing grieve you beyond measure.
For your life is short,
and time will claim its toll.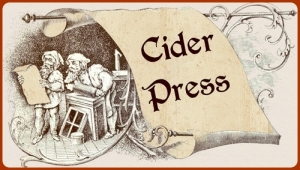 Early American music,
unusual & unique music,
and ephemera collection.
New...

The Cider Press Unique PDF ebook collection for historical researchers, music history researchers and for the just plain curious folks out there....

Explore
- The Amaranth Publishing web pages

including

the music of the spheres, the music of a Renaissance alchemist, music created by software and artificial intelligence, the music of the fairies, the music of the Illuminati, the world's most mysterious book, the world's oldest song, a way you can compose music like Mozart, the world's oldest love song,


and much more........
© Copyright 2003 - Amaranth Publishing - All Rights Reserved