19th Century American
Guitar Music

In 19th Century America, guitarists, banjo players, composers and publishers were all very busy producing sheet music of all kinds for guitar and banjo. From classical compositions, to jigs, reels, songs, arrangements, instruction books and even transcriptions from operas for solo guitar, we are now making much of this forgotten American music for guitar and banjo available as sheet music.
Downloading the Guitar Sheet Music

Each of the collections of PDF sheet music listed below can be downloaded as a "zip" file. The links below will take you to a description of each collection and to the payment link.

After your secure Credit-Card or Paypal payment is processed, you will be immediately emailed the download link.

Or, you can read all the descriptions, return here and download all the guitar collections on this page for $25.00 from this link.

If you have any questions, contact us by e-mail

African-American Classical Guitarist, teacher & composer - Justin Holland

19th Century Guitar Instruction & Method Books

The Amazing Mrs. Knoop

W.L. Hayden





The Guitar Music Of
The Amazing "Mrs. Knoop"

L'Alhambra Waltz 1847
The Flowers Of Andalusia 1850
Rosignol Polka 1850
Carnival Of Venice 1847
The Adieu (El Adios) 1866


Madame Delores Nevares de Goñi was one of the most prominent and talented guitarists of her time. Her performances were widely popular throughout the Americas between 1841 and 1892.
Madame De Goni's first husband also was a guitarist, but in 1845 she married George Knoop, a renowned cellist, after Sr. de Goni ..discreetlty left the scene. Most of her guitar compositions were published using only the name "Mrs Knoop".

An 1840 notice in the New York Herald:
"A distinguished female, professor of the Spanish guitar, has just arrived from Europe' Her name is Dona Dolores de Goni, a Spanish lady of exquisite beauty, and still more exquisite accomplishments in Spanish music. During the last spring and summer she gave many exhibitions before the royalty and nobility of England, that brought forth great applause. Despite the lavish claims in the press notice, de Goni was only moderately successful in London."
Download the music of Mrs. Knoop - PDF file
$3.50 - Paypal or Credit-Card



The Guitar Music Of J. C. Smith
J. C. Smith was a talented guitarist and composer who composed and published many works for guitar in Youngstown, Ohio in the last part of the 19th Century. Many of his publications have elaborate and skillfully done artwork, apparently created by J. C. Smith, and many of these engravings are included with the following sheet music.
The American Guitarist - Sweet Home Variations (9 variations)
J. C. Smith - 1885
American Fantasia (Fantasia with variations)
J. C. Smith - 1884
Au Revoir Polka
J. C. Smith - 1884
Dance Of The Fairies
J. C. Smith - 1883
Greenville Variations
J. C. Smith - 1884
Lightning Polka
J. C. Smith - 1883
Sappho's Reverie
J. C. Smith - 1884
Pavanne Of The Midnight Stars (duet and trio for guitars)
J. C. Smith - 1884
Diana's Fantasia (for two guitars)
J. C. Smith - 1884
Download the music of J.C. Smith
$4.50 - Paypal or Credit-Card

The Guitar Music Of Justin Holland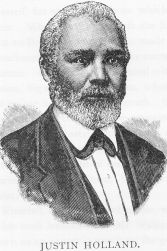 Justin Holland (1819 - 1877) was an African-American classical musician, guitarist, composer and arranger. It's safe to say that Justin Holland was the one of the most important American guitarists of his generation.He was perhaps, the first Black man to make an important contribution to the classic guitar.
Justin Holland was born to free black parents in Norfolk County, Virginia on 26 July 1819, the oldest or second oldest of farmer Exum Holland's three sons and five daughters.The family lived near other free blacks in a neighborhood which also included whites of moderate means who owned a few slave families, and whites without slaves. Tobacco had first been the principle crop in Norfolk County, however over-production, depressed profits,and tobacco's depletion of the soil had forced agricultural diversification; so the Hollands and their neighbors most likely grew corn, cotton, Irish potatoes, grass,or fruits and vegetables as cash crops on small farms.
Justin Holland left Virginia for Massachusetts after his parents' deaths in 1833.Justin went to Boston and met Senor Mariano Perez and began the study of the guitar. Another of his music teachers was Simon Knable, a member of Ned Kendall's Brass Band who taught Holland the theory and the art of arranging.
At this time Holland also undertook the study of flute with a Scotsman named Pollock. In 1841 he entered Oberlin College in Ohio for another two years of musical study. After some travel including a trip to Mexico he returned to Ohio, married and settled in Cleveland.
Holland's Method, published in 1876, stands as one of the finest methods for the guitar instruction published in America in the 19th century.
La Prima Donna Waltz
arranged for solo guitar by Justin Holland - 1854

Webster's Funeral March
Guitar solo
(from Beethoven) - 1871

Gertrude's Dream Waltz
Guitar solo
1871

Delta Kappa Epsilon March
arranged for solo guitar by Justin Holland - 1881

See Saw Waltz
Guitar solo
Rosabel (arranged by Justin Holland) - 1885

Peek-a-boo Waltz
Solo Guitar
Rosabel (arranged by Justin Holland) - 1885



Jusin Holland's Arrangements
For Solo Guitar From Operas

La Fille Du Regiment - Donizetti

Fra Diavolo - Auber

Rigoletto - Verdi

Zampa - Herold

La Traviata - Verdi

Il Trovatore - Verdi

Romeo & Juliet - Gounod

William Tell - Rossini

Lucia De Lammermoor - Donizetti

Oberon - Weber

Sonnambula - Bellini

Martha - Flotow

Lucrezia Borgia - Donizetti
Download the music of Justin Holland
$5.00 - Paypal or Credit-Card

Our web page about Justin Holland
with more of his music

Souvenir D'Amerique
Peruvian Air
Fantasie Americaine
La Paloma
Rigoletto
La Suplica
Santiago
Bella Boca Polka
Un Beso Mazurka

Download the music of
Luis T. Romero
$4.00 - Paypal or Credit-Card


Artist's Life Waltz - Requiem from Mozart's Magic Flute - Sounds From The Ringing Rocks - My Poor Heart - Christmas Bell March - Flower Of The Flock - La Fleur de Mexique - Monastery Bells - Shoo Fly Galop - Sunbeam Waltz (et al) - The Bridge

Download the music of W. L. Hayden
$3.00 - Paypal or Credit-Card


Moonlight Reverie - Moorish Dance - On The River - Norwegian Melody - Rustling Leaves
Download the music of C. J. Dorn$2.50 - Paypal or Credit-Card



Charles Converse
Golden Plume - Harmonic Polka - The Old Fifer - Songs Of The Pyrenees 1 - Songs Of The Pyrenees 2 - Four Seasons - Serenade Quickstep - Spanish Galopade - Arrangements from the music of Donizetti

Download the music of Charles Converse $3.00 - Paypal or Credit-Card

Instruction Books
For those who of you who would like to learn to read guitar music notation, or for any who might want to increase their skill, we offer the following 4 publications.
Companion For The Guitar - 1855
by Robert Kelley
From the Preface:
"The object of this work is to offer the principles of the art of playing the Guitar in the least possible space."
"Instead of dry exercises, which I think detrimental to the study of all beginners, I have, after the preliminary exercises, included pleasing Airs of every description of style, with the various characters of expression, glides, harmonics etc., as they occur in illustration. In this manner I have taught my own pupils, and by a gradual and almost imperceptible progression, from the beginning to the end, have generally, within a short time, found my efforts rewarded with complete success. My aim has been to make it instructive and companionable"
"Many have been deterred from learning this beautiful instrument, from the erroneous idea that it is difficult. This work is intended in undeceive those who may entertain such an opinion."
Guitar Without A Master - (26 page instruction book) - by "A German Student" - 1873
Method For Spanish Guitar (24 pages) - Francis Weiland - 1855(?)
The Guitar At Sight - Author unknown - 1833
Download the Instruction Books
$4.50 - Paypal or Credit-Card



Early American music,
unusual & unique music,
and ephemera collection.

New...


The Cider Press Unique PDF ebook collection for historical researchers, music history researchers and for the just plain curious folks out there....


Explore - The Amaranth Publishing web pages including the music of the spheres, the music of a Renaissance alchemist, music created by software and artificial intelligence, the music of the fairies, the music of the Illuminati, the world's most mysterious book, the world's oldest song, a way you can compose music like Mozart, the world's oldest love song,
and much more........
Copyright 2016 - All Rights Reserved