Chili
Some Interesting Chili History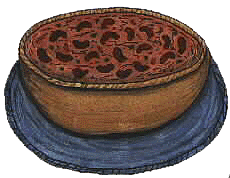 It is said that Jesse James (1847-1882), outlaw and desperado of the old American West, once gave up a chance to rob a bank in McKinney, Texas because that is where his favorite chili parlor was located.

"Next to music there is nothing that lifts the spirits and strengthens the soul more than a good bowl of chili."
Harry James (1916-1983) band leader and trumpeter


"Wish I had time for just one more bowl of chili."
Alleged dying words of Kit Carson (1809-1868), Frontiers Man and Mountain Man


"Chili powder makes you crazy"
Anonymous quote - I think a famous chili cook-off winner said this.




A flash-bang chili guitar solo!

Many years ago, I heard an old guitarist picking this very short flash-bang guitar solo at a chili-cookoff in Dallas. He told me the name of it was simply "Chili". I learned this from him that day and I have playing it ever since. Download and check it out....
The picture above shows an open air chili market
with tables in San Antonio in the late 19th Century.
And speaking of the 19th Century...............
Here's what they were saying about hot peppers, chili and other great foods way back in 19th Century American "periodicals".

The first quote was clearly written by a Yankee who was unable to understand the finer points of Texas cuisine.:

From - The American Congo. [Scribner's magazine. / Volume 15, Issue 5, May, 1894]

"A visit to these Rio Grande "tecaruchos" cannot be recommended; the accommodations are the meagrest imaginable; lucky indeed will be the guest who shall be invited to partake of came seca (jerked beef) broken up and fried in grease with scalding hot chilchipines (a fiery pepper growing wild in Texas and Mexico, and forming the basis of Tabasco sauce); cabrito, or goat meat, made into a stew with fri- joles and the wild tomato, tortillas, slapped on the table every few minutes by the none too clean hands of the fair daughters of the house, who attend to the culinary department; stewed "jabalin", or wild boar, or a ragout of the scaly armadillo, the whole accompanied by draughts of an alleged coffee made from the beans of the ebony-tree, and concluding with a traguito, of the mescal introduced from the other side of the river without going through the formality of consulting with Internal Revenue or Customs officials. Adventurous young men in search of a mild form of excitement may find pleasure in such collations, but the hard-headed conservative thinker will always prefer to sup with Lucullus.

This second quote seems to be another Yankee braving the Texas food:

Adventures on the Frontiers of Texas and Mexico. [The American Whig review. / Volume 2, Issue 4, October 1845]

"But as dinner now made its appearance, I had no leisure for further cogitation. I had made the plunge, and sink or swim, live or die, came back to me from school-boy days. Our frontier meal of beef, sauced with appetite and the grease of fried pork, and seasoned to scalding heat with red pepper, with milk to neutralize its blistering effects upon our throats, and thin Mexican cakes, called Tortillas, was brought in by the Col.'s Mexican woman."

Here's one where the write seems to have a better grasp of the cuisine in Texas:

Through Texas. [Harper's new monthly magazine. / Volume 59, Issue 353, October 1879]

"Texas beef such as we find in our Northern markets gives but a poor idea of the succulent steaks eaten around the camp fire, with the zest of a perfect appetite for sauce. It is a Texan boast that better meat is thrown to the dogs among the ranches than the people of the North can get in their markets. "

Here's a scan of an article where the writer appears to have a very clear grasp of the importance of using hot red peppers in cooking............

Point Of View. [Scribner's magazine. / Volume 17, Issue 6, June, 1895]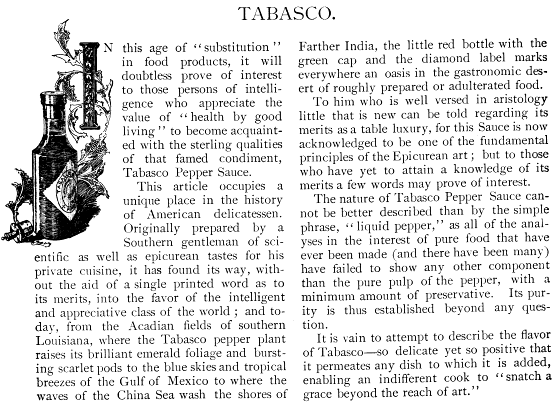 This is the oldest chili recipe we were able to find.........

Mrs. Owen's Cook Book Chili (1880)

lean beef -- cut in small dice
oil
onions
1 clove garlic -- chopped fine
1 tablespoon flour
2 tablespoons espagnole
1 teaspoon ground oregano
1 teaspoon ground cumin
1 teaspoon ground coriander
dried whole peppers
cooked beans

This may be the earliest printed recipe for chili con carne and it is surprisingly authentic, save for the suspect addition of "espagnole", white sauce seasoned with hame, carrot, onion, celery, and clove. The words are Mrs. Owen's own.

This might be called the national dish of Mexico. Literally, it means 'pepper with meat' and when prepared to suit the taste of the average Mexican, is not misnamed. Take lean beef and cut in small dice, put to cook with a little oil. When well braised, add some onions, a clove of garlic chopped fine and one tablespoon flour. Mix and cover with water or stock and two tablespoons espagnole, 1 teaspoon each of ground oregano, camino, and coriander. The latter can be purchased at any drug store. Take dried whole peppers and remove the seeds, cover with water and put to boil and when thoroughly cooked pass through a fine strainer. Add sufficient puree to the stew to make it good and hot, and salt to taste. To be served with a border of Mexican beans (frijoles), well cooked in salted water.

Frijoles or Mexican brown beans. Boil beans in an earthen vessel until soft (four to eight hours). Mash and put them into a frying pan of very hot lard and fry until comparatively dry and light brown. Sometimes chopped onions are put into the lard before the beans are added and sometimes pods of red pepper or grated cheese.
A Chili Powder Recipe By : Garry Howard

2 ounces dried ancho chiles
4 ounces dried red New Mexican chiles
1 ounce dried chile de Arbol -- to add some heat
6 tablespoons cumin seeds -- toasted and ground
6 tablespoons granulated garlic -- preferably one that hasn't sat on the grocer's shelf for 3 years
4 tablespoons ground Mexican oregano -- substitute another kind only if you absolutely have to
4 tablespoons hot Hungarian paprika

The chiles should be toasted before grinding. There are two ways to go about this. The method I use is to toast the chiles a few at a time on a hot cast iron griddle for about 1 minute, turning frequently until they soften and are lightly toasted. Be careful not to let the chiles burn, or they will have a bitter taste.

You can also toast the chiles in an oven. Preheat the oven to 300 degrees F. Break off the stems and remove the seeds from the chiles and lay them on a baking sheet arranged in a single layer. Place the pan in the oven. Place the cumin seeds in a small pan and place them in the oven as well. Since the chile de arbol are small chiles, they will be toasted first. Remove them and the cumin seeds after 4 or 5 minutes. Toast the larger pods another 4 or 5 minutes. They should be well dried.

When the chiles are cool, break them into pieces and grind into a fine powder using a spice grinder or coffee mill. Add the rest of the ingredients and mix well. Store in a jar.

Use this chili powder for making chile or as an ingredient in spice rubs for barbecuing. Add your own personalized touch by experimenting with different types of chiles. You'll never use that supermarket stuff again!
The Chili Pepper Rags

PDF Sheet music & MP3s

Red Peppers - Two Step 1907 - Imogene Giles

Chili Con Carne -1911 Elmer B. Griffith

Hot Tamale Man Rag - 1909 - Herbert Ingram

Red Pepper Rag - 1910 - Henry Lodge


MP3 sample - Red Peppers-Two Step by Imogene Giles


Purchase the Chili Pepper Rags -
sheet music & MP3s - $4.00

Note: The sheet music is scans of the original sheet music, prepared as a PDF files in an easy to print Black and white standard size paper format.

After your secure payment of $4.oo is processed you will immediately be sent the MP3 download links to the email you give while purchasing the collection..


Rare Sheet Music Published In
19th Century Texas

In 19th Century Texas, composers and music publishers were busy publishing all kinds of music, instrumental, choral, songs, you name it.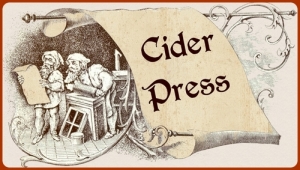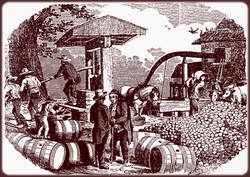 Early American music,
unusual & unique music,
and ephemera collection.
New...


The Cider Press Unique PDF ebook collection for historical researchers, music history researchers and for the just plain curious folks out there....




Explore
- The Amaranth Publishing web pages

including

the music of the spheres, the music of a Renaissance alchemist, music created by software and artificial intelligence, the music of the fairies, the music of the Illuminati, the world's most mysterious book, the world's oldest song, a way you can compose music like Mozart, the world's oldest love song,


and much more........
© 2013 - Amaranth Publishing
All rights reserved