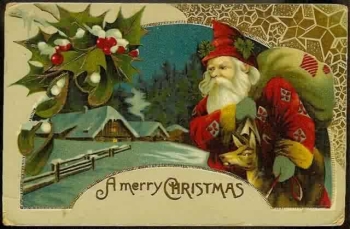 Two collections of early American sheet music and traditional tunes related to Santa and Christmas.
As with so many other subjects, earlier composers in America were busy writing songs and tunes about Santa!




The first collection below is scans of the original public domain sheet music, prepared in PDF format for easy printing.


The second collection is traditional Christmas tunes and songs in standard notation, in PDF format.




Collection 1 -
Songs (except were it is notated that the piece is for solo piano!)

Everybody's Happy - Santa Claus is Coming
I'm Waiting for Santa Claus
When Santa Claus Comes Around
Holy Night, Peaceful Night - An Old Christmas Carol
The Night Before Christmas - A Spoken Song or Recitation
The Children's Christmas Carol
Take Us To Heaven With Your Pretty Reindeers
Hurrah for Good Old Santa Claus!
Dreaming of Santa Claus - (Nocturne for piano)
The Story Santa Claus Told
Have You Seen Our Santa Claus? - (Solo for a single child or for a group of children)


Hurrah! Hurrah for the Christmas Ship! -

A unique song about a Christmas ship that brought Christmas gifts and toys for the children harmed in many ways in Europe after WWII.
Santa Claus Is Coming!
Old Kristopher Cringle is coming tonight
Santa Claus Quadrilles (for solo piano)
Tu-Ri-Ad-I-Lum; Santa Claus Has Come
Christmas Schottische - (for solo piano)
Fresh Evergreens
Kris Kringle March - (for solo piano)
The Children's Christmas Carol
A Ride With Santa Claus
She's Gone to the Land of Santa Claus
Santa Claus March and Two Step - (for solo piano)
Santa Claus 1
Santa Claus 2
Santa Claus is Here
Kris Kringle Duet

Songs of the Child World
A Letter to Santa Claus
Merry Christmas
The Legend of the Christmas Tree
Christmas Carol
Jack Frost
Tracks in the Snow
Sleighing Song
Snow Flakes
A Christmas Cantata -

From the intro of the Cantata...
"THIS beautiful Cantata has been prepared expressly for the use of Musical Societies, Day Schools, Sunday Schools, and all Singing people at Holiday times. The author, Mr. W. H. DOANE, so well known as the composer of many of our most popular sacred songs,
has had an extensive experience in musical circles, in addition to successful labors as Superintendent of a very large Sunday School at Cincinnati. Mr. DOANE conceived the idea of contributing to the enjoyment of the holiday season by furnishing a Musical Entertainment which
might be given not only by the older people, but also by the Young Folks."

The whole Cantata can be readily produced at small expense, with or without costumes, full directions being given for its most effective presentation. It is within the range of any School of ordinary size, although the finest effects may be obtained by the largest concourse of singers.
The Music, with accompaniment for the piano or organ, is bright and sparkling, interspersed with Solos, Duets, Choruses, Songs by Fairies, Recitations, etc., and a veritable Santa Claus. It is confidently believed this Cantata will meet a real want of the times.
Collection 2 -
Traditional Tunes (With a simple arrangement using guitar chords and a basic keyboard (or harp etc.) that you can uses as the basis for your own arrangements.)

A Merry Christmas
A Merry Christmas Jig
A Midwinter Waltz
Christmas Echoes
Christmas Eve
Christmas Morning
New Year Dance
New Year's Eve
Rudolph's Fancy
Santa Claus Is Coming
Snow On The Hills
Snowflake Hornpipe
The Solstice
Winter Solstice

Traditional Songs (with lyrics) (With a simple arrangement using guitar chords and a basic keyboard (or harp etc.) that you can uses as the basis for your own arrangements.)

Jolly Old Saint Nicholas
Up On The Housetop
I Hear Along Our Street
Christmas Is Coming
In Praise of Christmas
Christmas Song
New Year Song
The Pine Tree
Christmas Carolling Song



You can download all of the above music for $6.00

After your secure payment is processed you will immediately be sent the download link to the email you give while purchasing the collection.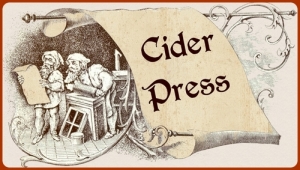 Cider Press - Early American Music