Mariposa Gazette, Volume 12, Number 52, 22 June 1867 —
MARK TWAIN'S ILLUSTRATION OF THE " BLACK CROOK."
Mark Twain thus does up the " Black Crook" as it is now played in New York :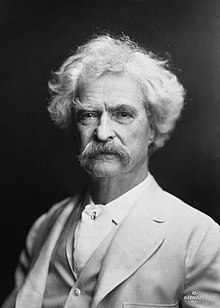 " The name of this new exhibition which touches my missionary sensibilities, is the " Black Crook." The scene effects —the water-falls, cascades, fountains, oceans, fairies, devils, heaven and angels, are gorgeous beyond anything ever witnessed in America, perhaps, and these goods certainly attract the women and girls.
Then the endless ballets and splendid tableaux, with seventy beauties arrayed in dazzling half costumes, and displaying all possible compromises between nakedness and decency, capture the men and boys.
The scenery and the legs are everything ; the actors who do the talking are the wretchedest sticks on the boards.
But the fairy scenes—they fascinate; the boys. Beautiful bare legged girls hanging in flowery baskets; others stretched in groups on great sea-shells; others clustered around fluted columns; others in all possible attitudes! Girls—nothing but a wilderness of girls— stacked up, pile on pile, away aloft to the dome of the theater, diminishing in size and clothing, till the last row, mere children, dangling high from invisible ropes, arrayed only in a "word blurred in original scan" . The whole tableau resplendent with columns and scrolls, and a vast ornamental work, wrought in gold, silver and brilliant color— all lit up with gorgeous theatrical fires, and witnessed through a great gauzy curtain hat counterfeits a soft silver mist.
It is the wonders of the Arabian Nights realized.
Those girls dance in ballet, dressed with a "word blurred in original scan" greatness that would make a parasol blush, and they prance around and expose themselves in a way that is scandalous to me. Moreover they come trooping on the stage in platoons and battalions, in most gorgeous attire I grant you but with more tights in view than anything else. They change their clothes every fifteen minutes for four hours, and their dresses be come more beautiful and rascally all the time.