American Legend


John Chapman (Johnny Appleseed ) was one of America's authentic pioneer heroes, a contemporary of men such as Daniel Boone and Davy Crockett. He planted his first apple seeds as a boy about the time Washington was elected President and his last as an old man about the time Lincoln was elected to Congress.

John Chapman was born in Leominster, Mass. in 1774. In 1797 at the age of 23 he was in northern Pennsylvania. Sometime in the 1800's he settled in the Ohio Valley. His travels in the next 48 years took him through Ohio,Indiana, and Illinois where he named himself Johnny Appleseed. He spent his life planting nurseries of apple seedlings. When he came into an area he either planted the seeds himself or
passed them out to settlers. His own seedlings he would let grow large enough to be transplanted. He usually bartered his seeds for food and cloths. When his seed supply was gone he went back east for more seeds and started out again.

It was said that the Indians considered him a great medicine man because he distributed many medicinal herbs.

We have created PDF files from scans of the original interesting sheet music of both a Johnny Appleseed short Operetta and a Cantata. There PDF files are prepared in an easy to print black white format.

Music of Operetta
Johnny Appleseed
(An operetta in one act)
Piano score with lyric
Prelude
Outlaw's Song
Johnny Appleseed's Song
Incidental Pieces - Slumber Music - Fairy Dance
The Fairy's Song
Big Mountain's Song
Fawn Awake's Song
Unseen Chorus of Fairies




Libretto of above
Operetta Johnny Appleseed


Cantata - Old Johnny Appleseed
(Cantata for treble voices)
Piano score with lyrics

You can download the above music for $5.00
0

After your secure payment is processed you will immediately be sent the download link to the email you give while purchasing the collection.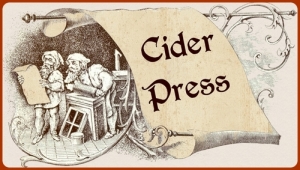 Cider Press - Early American Music