The Music Of The Ephrata Cloister
The Ephrata Cloister or Ephrata Community was a religious community made up of both men and women members, established in 1732 by Johann Conrad Beissel at Ephrata, in what is now Lancaster County, Pennsylvania. Beissel taught music at the Cloister and wrote hundreds of songs and choral works. Many of the other members of the cloister also devoted themselves to poetry and music and art. Their choir became widely known in early America for their ethereal and unique music, created in a musical notation system created by Beisell.
The Ephrata community was directly connected with some of the Founding Fathers, especially Benjamin Franklin, and founded one of the early printing facilities in Pennsylvania. The printing of the Declaration of Independence was done on an Ephrata press.
The Music Of The Ephrata Cloister

We have prepared a PDF file with 3 pieces of music from the Ephrata Cloister transcribed into standard notation. Included in the download is a PDF file with scans of an original 16 page 19th Century periodical article about the Cloister containing many engravings.

Listen to a unique short MP3 example of a choir performing a wordless 4-part chant of one of the songs in the
PDF file.

You will be sent the download link by email immediately after your payment is processed.
Music Of The Ephrata Cloister - $3.50
If you have any questions about this collection, contact us by e-mail.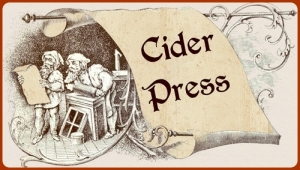 Early American music,
unusual & unique music,
and ephemera collection.

The Cider Press Unique PDF ebook collection for historical researchers, music history researchers and for the just plain curious folks out there....

Explore
- The Amaranth Publishing web pages

including

the music of the spheres, the music of a Renaissance alchemist, music created by software and artificial intelligence, the music of the fairies, the music of the Illuminati, the world's most mysterious book, the world's oldest song, a way you can compose music like Mozart, the world's oldest love song,


and much more........